Slug Your Barrel Kit
DO YOU KNOW THE ACTUAL GROOVE DIAMETER OF YOUR BARREL?

Printed by permission, Lyman Products

X = bore diameter
Y = the actual groove diameter
No? Then read on!!
Experiencing leading or inaccuracy with cast lead bullets are reasons to "slug" a gun barrel to determine the actual groove diameter. Once this actual groove diameter is known, then you can use cast lead bullets that conform closely to this dimension.
This kit was designed to help you determine the ACTUAL GROOVE DIAMETER of your gun barrel.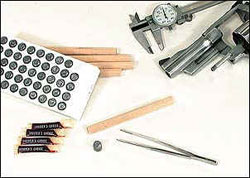 The Kit Contains
Soft Lead Plugs
5" Hardwood Pins
Pair of Forceps
in 9 different diameters, enough to slug 5 barrels.
to drive slugs through the barrel without damaging the bore.
for easy removal of slugs from the tray.
In addition to the kit, you will need a small hammer to tap the slug through the barrel, some high quality gun grease, and a micrometer or caliper to measure the slug.
---
Available Kits for Rifle and Pistol Calibers
Each kit contains 45 slugs in 5 sets of 9 slugs in various increments.
30, 31, 32 CALIBERS, 30 LUGER, 32/20 WIN., 32 ACP, 32 H&R, 8mm MAUSER, 7.65 MAUSER, 303 BRITISH, 32 REM., 30-06 SPRINGFIELD
9 x 56mm, 9 x 57mm,.35 CAL., 9mm LUGER, 38 ACP, 380 AUTO, 38 SPL., 357 MAG, .38 S&W
.375 H & H MAG., .375 Win., .38/55, .378 WEATHERBY MAG.
.38/40, 40 S&W, 10mm, .41 S&W MAG., 41 AE.
.44/40, .44 MAG., . 444 MARLIN, .44 S&W SPL
.45/70 and .458 WINCHESTER, .45 ACP, .45 AUTO RIM, .45 COLT, .45 WINCHESTER MAG., .445 WEBLEY
If you do not see your caliber listed above, you can use any kit in which your barrel caliber falls. For example, if your nominal barrel diameter lies between .447 to .460 then use Kit # 9.
---
If you have lost the instructions from your kit, or just wish to study them before buying a kit see: Instructions